Emily Devers is a facilitator
of creative spaces
Interviewer: Courtney Boag
Images: Emily Devers
Artwork: Emily Devers

23 October, 2018

"I am a creative and I love making art and working with other people who make art, so basically, I just want to be a support role for anyone who wants to show in this space."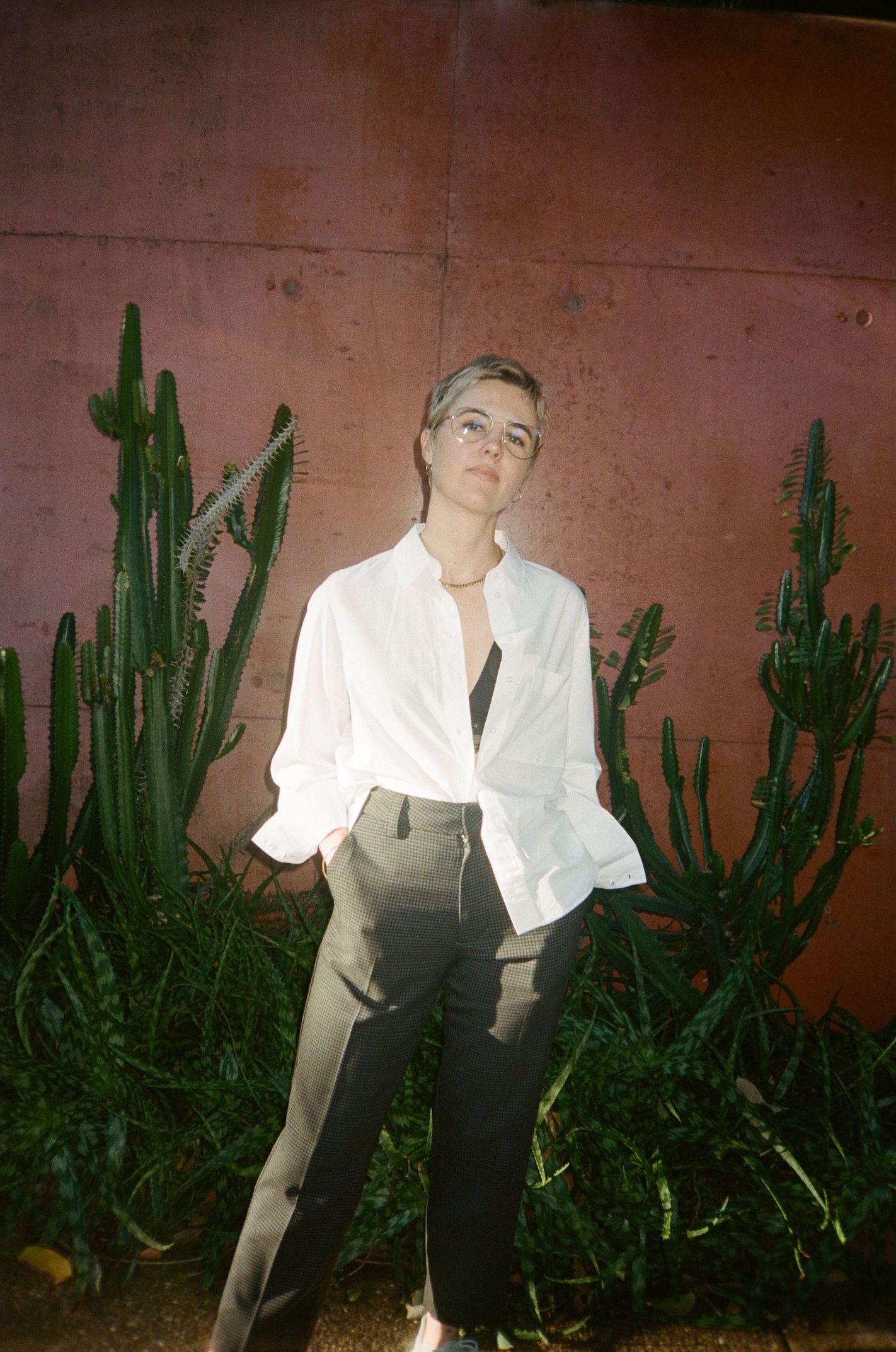 Sitting down with Emily at her newly opened gallery, it doesn't take long to realise her heartfelt passion for art and her genuine desire towards supporting emerging artists. Emily has an impressive background in the arts. She was an active facilitator of the Sea Wall's project in Cairns, a festival which brings together well-known mural artists from around the world to generate discourse and foster support for the earth's marine ecosystems. Emily and her partner, Frank, who is also a well-known Brisbane mural artist have collaborated together for over five years under the name Frankandmimi. Their collaborative work has taken them from California, to Hawaii, to New Zealand and back to Brisbane. There is a common thread to Emily's work, but it isn't just her beautiful bright pastels and striking abstract floral prints, it is her unwavering connection to the meanings and stories behind her work.

Likewise, her desire to create beautiful and meaningful public spaces is evident in her most recent project, the opening of Brisbane's latest art gallery; The Third Quarter. Entering into the gallery one feels at home. Unlike the protruding walls and often exclusive environments of larger commercial gallery's, The Third Quarter's approachable nature and minimalistic flare are balanced in a way which inspire your creative senses without compromising your comfort. Emily's own approach to curating is similarly gentle. During our conversation, Emily talks about her wishes to use the space as a supportive environment for emerging artists and that she doesn't feel comfortable identifying as a director or curator, but rather sees herself as a facilitator and supporter of space for local artists. I felt truly honoured to be welcomed into such a place.






So, Emily, can you tell me about how you came to open the gallery, what was the process like for you?


Sure, so I had been working in my own creative studio with my partner for about six years where we did a lot of design work mainly based around mural artworks and mural fit outs for businesses. We had both been working on some individual projects at the time and I had just come back from a public art project up in Cairns, which was probably the biggest thing I had ever undertaken at that point. When I returned home, I suppose it became a good opportunity to really think about what I wanted to be doing and how I really wanted to be spending my time. So yeah, when I came home I kind of, I don't know, not forcefully, but it just started to happen that I began brainstorming how I would like to see a creative space operating in Brisbane. Opening a gallery was one idea that I have had in my mind for a few years, but it has only been recently that it has started to come to fruition.



It's such a surreal feeling when something you have dreamed of becomes a reality.


Yeah, and it's only really been a month that the gallery has been opened. Before that, I had been working in the gallery upstairs for a few months. So, it's still really fresh.



So, were you working on your own art projects during this time?


Yeah, so I was just continuing with the work that I was previously doing. So, a lot of design work and drafting up art works to be painted on-site, but I continue to work on these projects upstairs while opening downstairs for exhibitions.



Oh wow, so the building is really multipurpose?


Yeah [laughs], it's great! So, we have studios upstairs and there's five people who currently work out of these spaces as well as myself.



So how did you come to acquire this gorgeous building, it's really beautiful and it's in such a great location.


The property came up for lease at the end of June this year and I pretty much saw the lease sign the day it was put up, so naturally, I immediately called up about it. It's funny because at the time I wasn't really looking for a gallery space, I was more or so just percolating on it but yeah as soon as I saw the outside of the building and where it was placed geographically, I just knew that it would be a perfect place for it. So, we started drawing up the lease agreement not long after that [laughs].



Absolutely! When I was walking through Petrie Terrace this morning, I really noticed how the gallery fits into this wider community and creative network. Have you found the surrounding community supportive of the gallery?


Oh yeah, and this network is growing! We have architects at the far end of Petrie Terrace towards the Kelvin Grove side and there's another artist-run initiative called Boxcopy around the corner that supports a lot of recent art graduates from university. Boxcopy has been operating for quite a while here, so I suppose we are perhaps the new kid on the block [laughs]. Scout café is owned by the same people who own Jessie's Girl up the road, so they offer the area two different food scenes which is exciting. But yeah, it's been so lovely, since we opened, we have been supported by the locals. One example was that I was able to get a drinks license for our bar which now means that we can host people when Scout doesn't have enough seating and it also means that people can enjoy the gallery space after their meals. We are also trying to come up with ideas to host life drawing sessions here every Wednesday night and Jessie's girl offer's a Wednesday dinner special, so we are going to come up with ways that we can join these two things as a package.



That would make for such a wholesome Wednesday evening! What a way to break up the week – with wine and pencil in hand and spent enjoying the company of other creative people.


[Laughs] yeah absolutely, I'm looking forward to new people and businesses moving into the community to see how this area will grow.



So, if there was a creative concept to The Third Quarter, what would it be?


Sure, so The Third Quarter for namesake is actually based on the third quarter of the gallery floor plan. So, the small enclosed room at the back-right quarter of the gallery is always available for emerging artists and artists from the margins totally fee-free. So, we balance this out by always having professional artists exhibiting their works in the larger gallery space. So, with shows, the larger space is called the Ochre gallery while the smaller space is called the Cobalt gallery, so we always try to pair exhibitions, so they are happening at the same time. This way, when we have an exhibition opening for the larger gallery, the artist who is showcasing in the Cobalt gallery – who may be exhibiting for the first time – will also get to connect with those same audiences and garner a lot more support as opposed to just doing it on their own. So yeah, the concept is really about trying to promote aspects of social inclusion and social enterprise into a commercial gallery setting that hasn't really been done before.







Emily, that's great, what an incredible opportunity for both emerging and professional artists to connect and share an audience. Would you consider your role in the gallery as being a facilitator, or supporter for emerging artists?


Yeah, those two words are really nice. I actually feel really uncomfortable with words like curator or director because I am not trained as either of these, as much as I would like to be a curator [laughs]. I am a creative and I love making art and working with other people who make art, so basically, I just want to be a support role for anyone who wants to show in this space. I program the shows and I am definitely considerate of who I put next to each other and what that program will look and feel like for the public, but in terms of the space itself, I always like to be available for people for any kind of support. On a week to week basis if people are installing an exhibition it's my role to guide them on the best way to work with the space and to assist them with hanging their works. For our current exhibition, our artist had all these works in mind for the show, so when she brought these ideas to use, we were able to map out how they would work best within the gallery. Then when she came in with volunteers to help set up, I was able to just guide the installation.



You really do hold a supporting role throughout all the stages an artist would go through from the very beginning to the end of a show.


Well, our current exhibition 'Kaka Nali' is our second exhibition and the first solo exhibition in the space and the past two weeks have been awesome. I feel like I have learnt so much about what someone who is planning to show their work for the first time really needs in order to feel supported and to feel valued with a new audience. So, it's been a great learning experience.



Sure, and these are such important and valuable lessons to learn I would imagine. Such two-way support would lead to a really genuine working relationship as well. Looking around at the gallery now, I feel so inspired by the artworks, can you tell me about the current exhibition?


Yeah, of course, so Hannah Gutchen is a traditional Torres Strait Islander weaving artist. She is a multidisciplinary artist in terms of how she not only creates artworks but also holds workshops and does a lot of community engagement work with her community here in Brisbane and back home in the Torres Strait. Her solo exhibition features some of her most meaningful works and has been displayed as a kind of transcription of her journey. She had a really profound experience returning home to Erub Island in the Torres Strait Islands with her younger brother and I think this really prompted a turning point for her in focusing her attention towards art as a way of communicating her experiences and feelings.

Hannah uses the terminology 'shared space' instead of the exhibition because she wants to break down the traditional conventions of how one experiences a gallery setting to rather depict a gallery as a space for creating dialogue. On the night of her showcase, it was really beautiful, she had priced her works but had suggested that people could come and have a conversation with her about a piece if they had truly connected with it, that way they could develop an arrangement from that. Hannah is really big on exchange.



These values really feed into the wider concept of the gallery as a shared space.


Totally! We really feel lucky to host Hannah.



It can certainly be quite difficult as an emerging artist to get your foot in the door.


For sure, and for people just coming out of university, there can be a huge gap. If they don't fit into an existing artist-run initiative or aren't a part of a collaborative crew, it can be really hard to know where to show your work. So, I really want this gallery to be a place that's financially accessible, and comfortable for artists to showcase their work in. I am always happy to come up with ways to lower costs for artists. Pairing complementary artists together is one way of distributing the costs or inviting people to do group shows is another option, then once they have a bit more confidence, we can invite them to do a solo show. We try to help artists to extend on their current practice by hosting workshops for example, and this can be another way they can supplement the cost of the hired space.



I really like this notion of a shared space and I think it works to really revolutionise how we look at art gallery spaces. I suppose it helps to take away the pretentiousness of a gallery space.


Absolutely, and you can see this represented in the audiences that have come to our past exhibitions. All of our events so far have been so nice and have really reflected a very authentic Brisbane community. Hannah's event was a real testament to the notion of a shared space, she had a really supportive group of friends and family that have really encouraged her practice. A few of Hannah's family members traveled from the Torres Strait to see her show which was so beautiful to see! We had a lot of people who brought her work, but generally, everyone was just really excited to be here to support her.



This sort of genuine exchange between the artist and the audience really takes away the one sidedness that is so often characteristic of exhibitions.


Oh yeah, particularly if the gallery is branded as a commercial space, you can't help sometimes but feeling like a bit of a spectator. The past few exhibitions have really managed to create genuine engagement where everyone feels welcome and comfortable.



It's so important. So, Emily, I wanted to ask you about your own creative journey. You are an artist yourself; can you tell us a bit about your style.


Sure yeah, so I started painting more seriously when I started my own business with my partner – we went under 'Frank and Mimi Studio' for about six or seven years. Through this studio, we did a lot of large-scale artworks, so I guess, in Australia, we started doing mural work before it really blows up and became quite global [laughs]. During this time, I really think we were really chasing our tails and trying to keep up with the growing scene. It was really intense, we worked really hard and really pushed ourselves to, I guess, keep ahead of that movement.

But yeah, in the last couple of years we have started to both reassess what it was that we wanted out of that process in the first place. I think the main thing was that we just wanted to explore, grow, and remain curious about what the next job would require from us. We didn't want to get into the rhythm of commercialising the work we were doing or developing too much of a brand to stick to. So, now my partner Rick, is looking at doing his own typography-based artwork which is really exciting, and I've started to look at more independent mural work and some more gallery artworks as well. So yeah, I've just been quietly playing around with a few things but haven't shown my work in a gallery environment lately.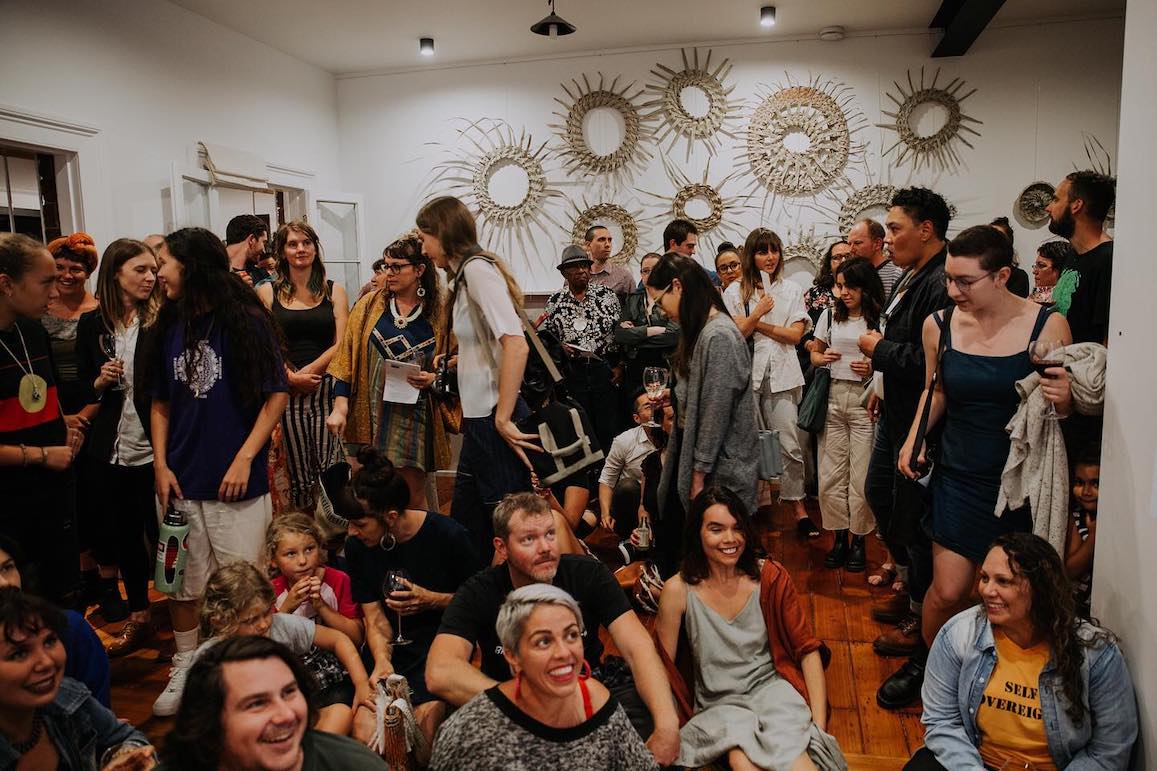 Well, when you are ready, you have the perfect space to exhibit your work!


[Laughs] Yeah! It can feel really daunting for artists who are trying to find a place to exhibit. For me, personally, I think there are only one or two places in Brisbane that I would feel comfortable exhibiting in. So, for me, this gallery will be the first place that feels right to exhibit in.



It's a bit like a home as well as a gallery which makes it really approachable.


One hundred percent!



On the topic of challenges facing emerging artists, has there been any challenges you've had to face in opening up the gallery?


I think, perhaps more just personal challenges. The logistical stuff has been quite manageable and although it's been a bit of a learning curve in itself, I've had a really supportive team around me to help me through these challenges. The guys from Talty Sargent worked on the fit-out of the store, and Pete Kuhnell, who runs Kuhnell Architecture and also has a studio upstairs, gave these guys designs and helped us to build a bit of a visual identity for the space. The branding then came about pretty easily with a friend of mine Luke Day. We went back and forth with ideas and it all started to create itself really quickly. The rest of it has been mainly behind the scenes work like admin tasks which can be a bit arduous, but people don't see it [laughs]. It's amazing how much work has to go into a big white box you know! [laughs].



Yeah absolutely! Despite the beautiful minimalistic chic of the gallery, there is definitely a process of putting it all together.


Oh yeah, but the process has been really cool. Considering that we aren't a huge gallery, I think the journey has been manageable, if it had been any bigger it may have gotten on top on me [laughs]. It's been particularly interesting to see things from another perspective of the art industry, a role that has usually been on the opposite side to my previous roles as an artist.



That's a really good point. You are really gaining a holistic, multidisciplinary experience, because you are still an artist yourself, while also moving into a new space of being a curator and learning how to operate a gallery behind the scenes. How does this feel?


I think it's been so helpful actually being an artist first and then opening a space, because now I feel like I've got a good handle on what artists need in order to feel supported. I started working on mural jobs when I was helping to organise the first Sea Walls Australia Festival up in Cairns. It was a fantastic festival which saw artists from around the world coming to Cairns to paint large scale artworks as a way of spreading awareness of marine conservation. I really felt like I was in a privileged position because I had been given the opportunity to do this many times before. So, to know what artists would need in order to get set up cuts out a lot of guesswork. So now when artists come into the gallery and ask to use the space, I immediately know what they will need to feel valued, supported and how we can use the space effectively for their works.



While it's so amazing that you hold this incredible multifaceted role, have you found it hard to balance your role as an artist with your role as a gallery curator?


Yeah definitely! Definitely, within the last couple of months, it's been a big slog to open up. In the past I haven't like there has been many instances where I have really needed to push for something, it just felt like it was all flowing, but in the past few months there has been a bit of friction and a bit of abrasiveness particularly in dealing with clients. Without sounding too airy fairy, I feel like it's the universe telling me to chill out a bit on my personal projects for a while and really focus my attention on the gallery.

So, in the past few weeks, I've had a few more enquires from people who would like to work with me and have a bit more creative freedom which is really nice so I'm hoping I can continue with flexible work like that and balance it all out. In the gallery working week I will be closed Monday, Tuesday and Wednesday as this will allow me time to do my own thing and work on murals. I've also got someone working part-time with me so that helps out a lot. So, it's a bit of a juggle at the moment but I've just started to, over the past few days, settle back into the flow of things.







I think that's really interesting actually. When things are meant to work out, they will fall into place much easier than when we force them to work out a certain way.


For sure, you know it's meant to be when it feels right hey. Generally, when you are pushing and pushing and there's no pull from the other direction it's such a good indicator that you shouldn't be doing it [laughs].



So, what are the plans for The Third Quarter in the future? It sounds like it's going to be an exciting journey!


We have been able to book the first six months of 2019 which is good, it takes the load off programming and it means we've got a lot to look forward to. At the moment we've got our regular events happening, so our life drawing on Wednesdays, and then we open the bar up on Thursday and Friday evenings for 'After Dark' where we invite people to come to hang out in the courtyard and enjoy the artwork without the busyness of opening nights. Along with these events I would like to develop a more extensive workshop program with a lot more community engagement. Then eventually, I would like to open up a collaborative studio space that's actually off-site and will help to support artists build their practice and to encourage artists from the margins to get their foot in the door. Then, ideally, these artists would be able to exhibit their work in The Third Quarter gallery.



These are great plans for the future! And yourself? What are your plans for your own artwork?


I think at the moment I am going through a really quiet and reflective stage which actually, in opposition to the business side of things, feels really nice. I feel like some things are just settling in my body and I'm coming up with new ideas that will start to make a bit more sense in time. So, at the moment I just want to spend a bit of time developing my studio practice and then working towards a show. I have a residency in July next year in the Blue Mountains, so I really want to focus on creating some new works there and extending invitations for artists in the mountains to showcase here at The Third Quarter. So yeah, this is something really exciting on the horizon!