Vítor da Silva Fights for Indigenous Human Rights
Interviewer: Courtney Boag
Images: Vítor da Silva

17 June, 2022
"In an increasingly divided society, anthropology, which besides exploring human diversity also teaches us about what we all have in common; it presents itself as a tool for hope. In this globalised world there is an urgent need to build understanding, acceptance, inclusivity and respect across cultural and/or imaginary divides — so that you and I, regardless of our country of origin, religion, world-view, gender and social class, can understand that we are nothing but the same: human."


Vítor da Silva


Vítor da Silva is an indigenous-rights researcher, ethnographer and storyteller. After leaving the Portuguese Armed Forces, Vítor moved to the UK to study Criminal Investigation. His goal was to combine what he had learn't in the Army with the skills he would aquire in investigative studies in order to "reduce suffering in the world". However, later Vítor took up Anthropology as he came to realise that "serving humanity without first understanding human societies and the meaning of being alive was not only ironic, but impossible". Today Vítor intergrates his background in criminal investigation training, Human Rights law and anthropology to uncover and report on human rights abuses against Indigenous Peoples around the world.

Throughout his career, Vítor has travelled to numerous communities including: the Maasai tribe in the savannahs of Kenya, the nomadic Changpa people from the Himalayan plateau, and the Noke Kuin people from the Brazilian Amazon. In his dissertation entitled, "Ritual, Resistance, and the Right to Exist" Vítor explored the relationship between sacred rituals and the power of resistance among Indigenous Peoples in the Amazon Rainforest. Specifically, he examined how the Noke Kuin people have returned to ancient rituals in the face of enchroaching development pressures and how they are finding "antidotes to chaos" in these age old practices.






Vítor, can you describe your story of coming to be an anthropologist?


I never planned to become an anthropologist. To be honest, growing up I did not even know what the discipline of anthropology was. My decision to follow this path happened later in life, as I tried to make sense of human suffering, secular upbringing and the meaning of being alive. Like any other boy growing up in the so called "developed world", I had little to no structure in my life, apart from the mandatory school curriculum that taught me useless facts about distant lands. Besides being made to memorise data for school exams, which had little to no application to my immediate survival, there was no real experiential learnings that enhanced my day-to-day life. Even the pseudo-sacred rituals of passage that I was made to undergo as part of my Christian upbringing lacked real meaning. Looking back, it was more meaningful for me to play with my friends in the woods on the way to Sunday-school than the preaching of the 'divine' itself.

As a teenage boy I craved challenges, healthy competition and self-reliance in the natural world – which explains why I spent more time in the forest than at school. Home was too comfortable, modern education too unrelatable, and the divine too empty of meaning. I had many questions for which I had no answers to. But one thing was clear: something was fundamentally unfulfilling in this framework of upbringing. This prompted me to take a much more difficult path than the rest of my friends. At the age of 17 I decided to enlist in the Portuguese Special Forces. Although the purpose of the Armed Forces is - I later found by experience - to train young men to murder strangers in other parts of the world, my decision to join the military had a completely different fundament. It was not based on a patriotic dream to defend my country, but an unconscious willingness to undergo deep transformation through a challenging but significant rite of passage. Ultimately, my time in the Army taught me the meaning of courage, discipline and brotherhood, but it also revealed my empathic nature to help others.

After leaving the Armed Forces I moved to the UK to study Criminal Investigation. My goal was to combine what I had learned in the Army with the investigative sciences, in preparation for my ambition to reduce suffering in the world. But for me, this aspiration did not aim to simply "save the victims" and "punish the criminals", but to understand human behaviour and other deep societal patterns that would lead a person down that path in the first place. This led me to pick Anthropology as a major — a discipline that became the core of what I do today. Ultimately, becoming an anthropologist was a product of my realisation that serving humanity without first understanding human societies and the meaning of being alive was not only ironic, but impossible.



Can you tell me about how you intertwine your experience in criminology, human rights and anthropology?


I could say that in a single project I oscillate between a criminal investigator, a human rights researcher and an anthropologist. These three disciplines, although serving very different purposes, were strategically combined into what I do today. I'll give you a few examples to explain why and how I intertwine my diverse background on the field.

My first fieldwork led me to Kenya, where I lived with a Maasai indigenous community. This trip to a distant land had a purpose that exceeded the typical anthropological enquiry about a particular society or culture. My research sought to document the challenges of an indigenous community at risk of displacement for the construction of a national park and to understand the many threats associated with the issue of human-wildlife conflict.

Besides providing a framework on how to navigate spaces with the appropriate ethics and cultural sensitivity, the discipline of anthropology allowed me to understand their lived realities from the community's own point of view, rather than what made sense to me as an outsider. What is their connection to the land and the wildlife around them? How has that changed over time? How will the physical, cultural and spiritual survival of the community be affected by the displacement? Who in the community is going to suffer the worst impacts? And last, but not least, what does the community need and want? My ethnographic training allowed me not only to ask the right questions in a manner they can understand and relate to, but also interpret their answers beyond verbal communication.

On the other hand, my human rights background allowed me to contextualise the issue being researched within a broader legal and political spectrum, as well as to devise advocacy strategies to support the affected communities. Are the grounds to displace an entire community from their ancestral lands justified? Is the displacement legitimate according to the law? Has the community been meaningfully consulted for this project according to their right to Free, Prior, and Informed consent? How can the community uphold their rights and fight against this proposed project, if they so wish?

My criminal investigation training then prepared me to deal with the bureaucratic nature of the assignment, i.e. How to engage with NGO representatives and government authorities? Who and what to believe? What to assume? What to challenge? What to investigate further?

Documenting environmental crime and indigenous rights' issues today could be said to be as dangerous as war reporting. For me, as a white man, maintaining a low-profile in such a hostile region was not a simple and straightforward task. However, my military training also served me well. It helped me familiarise with the country's security risks and devise a strict safety protocol that was adequate to the nature of my fieldwork. Ultimately, my academic and professional trajectory is proof that one can combine their interests, passions and skills into a new type of job. This reminds me of what anthropologist Wade Davis once said when questioned about his career: "the best jobs did not exist, they were invented".



Your research is deeply embedded in the practice of ethnography, why is this so important to the work you do?

All my projects begin with an ethnographic enquiry about the lived realities of the community that I aim to serve. Instead of "parachuting" into these communities with false perceptions about their struggles, and as a consequence devise a project based on what I, as an outsider, think they need and want, I first sit down, listen, and experience their lived realities. This helps me understand their challenges and complexities in a more meaningful and nuanced manner, which in turn dictates the success or failure of the intervention.

I'll give you a brief example to illustrate the importance of ethnographic research, as well as what happens when such approach is not followed before the implementation of "well-meaning" projects. An NGO based in New Delhi created a "development scheme" project that aimed to provide financial support to the most marginalised indigenous communities living in the state of Jharkhand, India. The NGO employees, despite their good intentions, never visited the communities they aimed to serve. Instead, the scheme was designed by a group of people living 800 miles away from the indigenous villages they wished to uplift. Long story short, the money that was supposed to be given to the most vulnerable of the community was intercepted by village elites who could easily portray themselves as "the most needy". In the end, the NGO not only ended up providing financial support to the wrong people, but also contributed to the growing prejudice carried by the village elites against the most marginalised. This case study shows that without a meaningful ethnographic enquiry in order to unveil the power-dynamics on the ground, organisations risk inflicting more harm than good on those they wish to help.

It is with this understanding about the complexity of lived experiences on the ground that I approach my work. Therefore, by conducting ethnographic research at the beginning of my projects — which requires living with these communities for an extensive period of time — I am able to dive deep into the core of their cultural, spiritual, and socioeconomic landscapes. That includes intimately understanding the challenges and needs of the present, but also their dreams and aspirations for the future — which then allows me, together with the community, to design a project that will ultimately benefit them.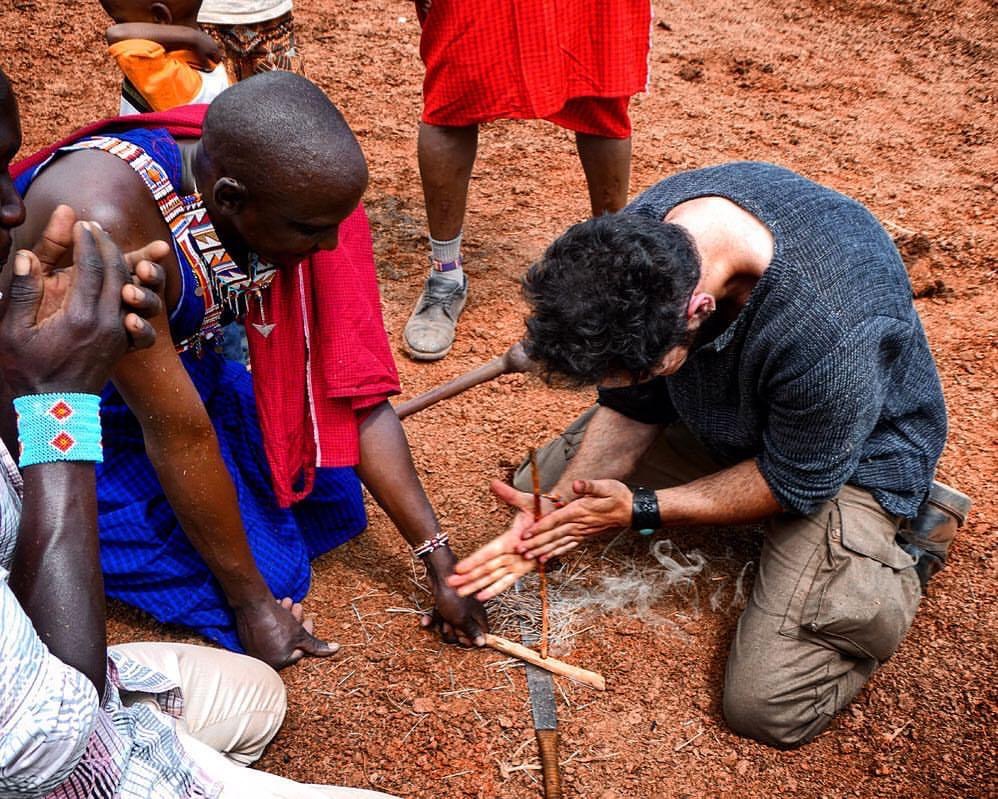 Kenya

Vítor during fieldwork with the Maasai tribe in the Kenya savannah.




You work across many diverse environments such as Kenya, Brazil and Nepal. What drew you to these areas?


The physical and cultural environments that I work in are indeed very diverse, but the issues that I focus on are essentially the same. From the savannahs of Kenya to the rainforests of Brazil, indigenous peoples are being persecuted by a neo-colonial enterprise that seeks to displace entire communities from their ancestral lands in the name of "progress".

Nothing in particular drew me to any of these areas. Rather, timings and circumstances led me to these regions. For example, the year I was doing my Human Rights postgraduate at the London School of Economics and Political Science (LSE) was the same year President Bolsonaro took leadership of Brazil — which threatened the constitutional rights conquered by its indigenous peoples. In this time of crisis, it made sense for me to use my language advantage as a Portuguese person and focus my time and resources in supporting their struggle.






Himalayan Plateau

Nomadic Changpa women in the
Himalayan plateau. Taken during fieldwork.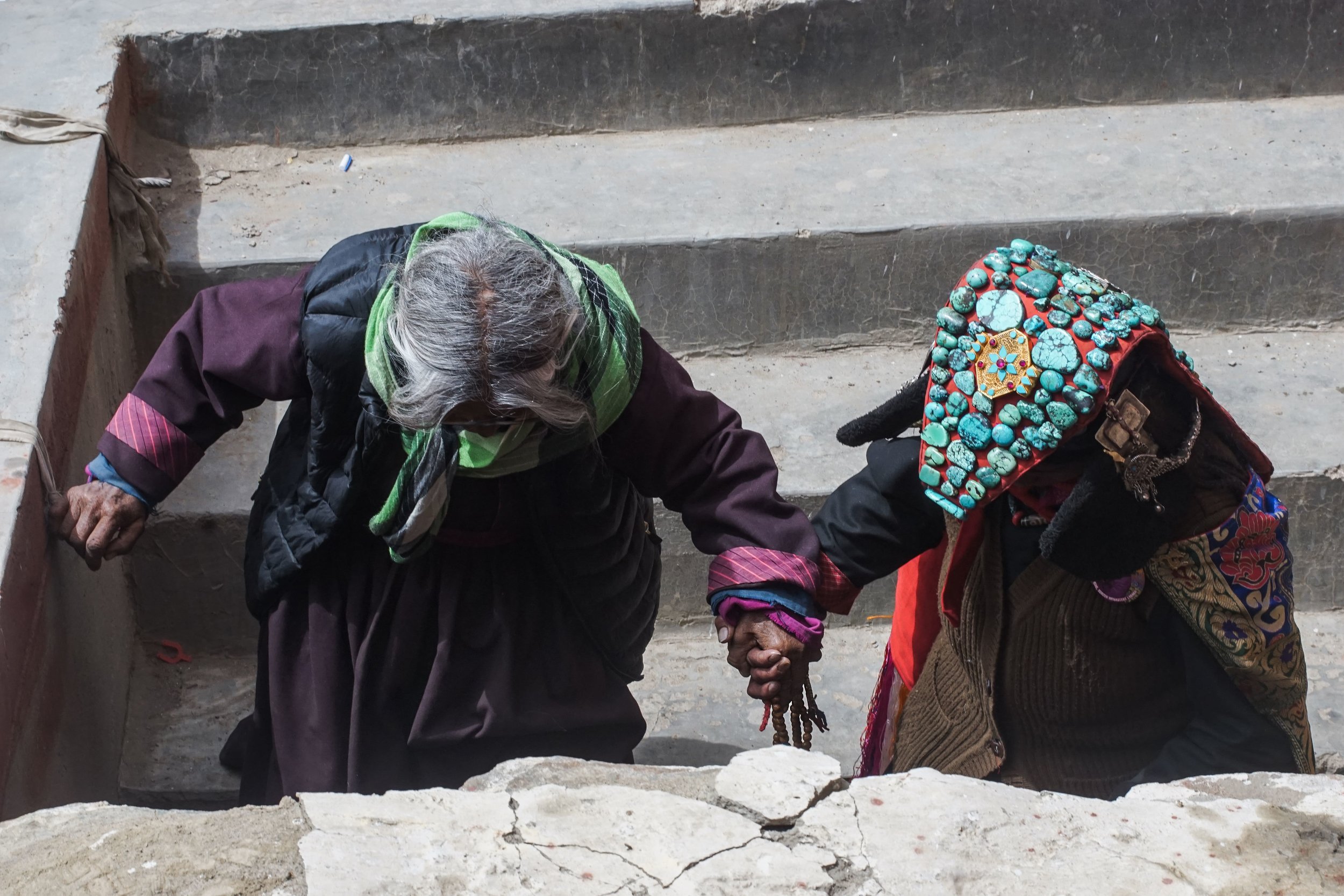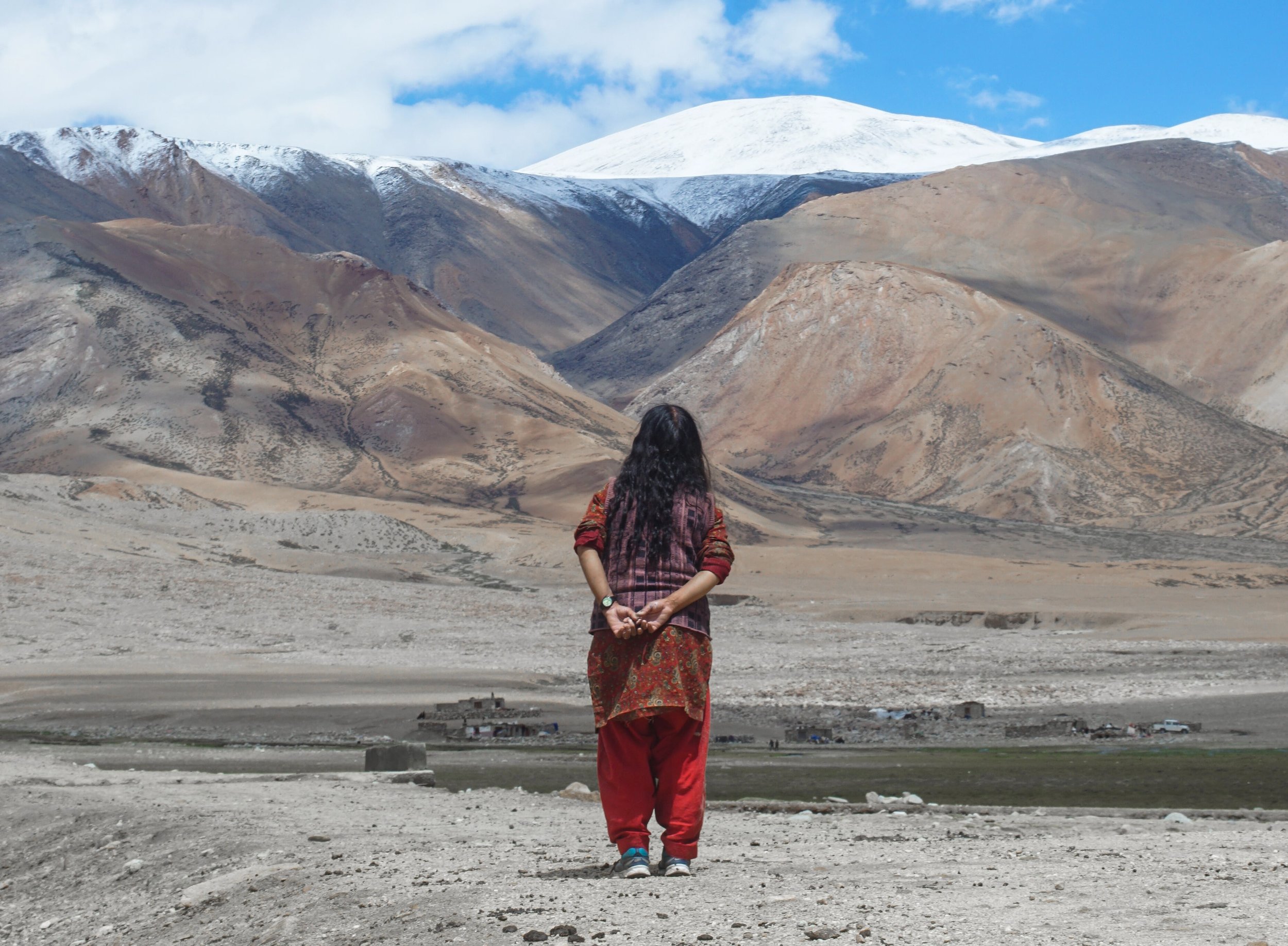 Your work explores the importance of ritual in everyday life and how it may be practiced as an "antidote to chaos". Particularly, you have explored how the Noke Kuin people of the Amazon are using ayahuasca and ritual in response to the issues they face today, such as the deforestation and development of their lands. Can you tell me about this?


During the colonial era, the Indigenous Peoples of Brazil had to consistently resist and adapt to changing conditions. Few were the indigenous groups that survived the centuries of sustained war, devastating disease, and violent dislocations. Those who did – like the Noke Kuin – had to defend themselves against the loss of Self, which was constantly threatened by the degrading subordination of oppressive systems who sought to erode their group cohesion and sociocultural life. Unable to overtly confront authority, the Noke Kuin often hid – and sometimes denied – their identity in order to survive. In their struggle for social reproduction, and as they strove to adapt to changing conditions, the Noke Kuin found in ritual an important mechanism for community cohesion. In this case, they resorted to their most powerful ritual ceremony, that of ayahuasca, which at the time of colonial slavery was only practiced by the shamans.

In a moment of crisis, such as when fleeing from rubber barons, this ritual was opened to all men in the community. As they practiced their rituals out of sight from their power-holders, they were able to maintain elements of differentiation of ethnic identity, but also create their own mechanisms of resistance, which allowed them to survive centuries of persecution, slavery, alienation and acculturation.

More recently, with the construction of an inter-state highway through their indigenous territory, the Noke Kuin youth found their way into the modern world, and with them brought a 'force' to the village that the community did not know how to control – alcohol. This 'dark medicine', as they call it, paired with other outside influences, prompted in them feelings of contempt for their indigenous roots, which led them to slowly distance themselves from the community – but also from themselves. Besides the damaging noise and pollution resulting from the increased circulation of vehicles, the road also opened doors for illegal loggers, illegal miners, illegal hunters and monoculture farming, which together contributed to the near-obliteration of the wild-game they depend on for survival.

Women, who suffered the most drastic changes in their daily rituals due to this obliteration of wild-game, also found in alcohol an escape to the disruptive forces threatening their identity. Zigmunt Bauman believed that when the identity of a person or a group is challenged, their dignity, as well as their feelings of belongness need to be restored and re-affirmed, since "identity does not have the solidity of a rock" (Bauman, 2004). Durkheim (1912) also talks about the importance of reaffirming collective sentiments at regular intervals, but with the interruption of ritual, the collective ideas of the group began to disperse.

Faced with a serious threat to community cohesion, the elders of the Noke Kuin rescued the estranged youth and alienated women by doing what their ancestors did in a moment of crisis: open their most powerful ritual, ayahuasca – this time to the entire community, including their children. Today, the Noke Kuin have a strong identity and a thriving culture despite the many threats that surround them, and their contact with the outside world is managed with caution, taking just what they need, no more, no less.

Their history of survival illustrates the reality of many other indigenous groups in Brazil, who struggled to scrape a living under colonial authority, and who still fight today against the forces of neo-colonialism. Ritual was for indigenous peoples a source of social equilibrium; "an adaptive and adjustive response to the social and physical environment" (Doninger, 1999) that gave them both the resilience to survive colonialism, and the organisational ability to demand their human rights in the 1988 Constitution (Brazil, 1988). Today, faced with the same dark force, indigenous peoples continue to use their rituals as a source of strength and collective conscience. Although it is important to emphasise that the resistance against the imposition of colonial hegemony was made through a variety of means, the Noke Kuin stand today as a living ideogram of a people who had – besides their bows and arrows – little else to defend themselves with, besides their spirituality.




Shaman Rekan Noke Kuin stands
in prayer in a forest clearing that was
illegally cut by outsiders.

A sacred drink is served during an
important community festivity.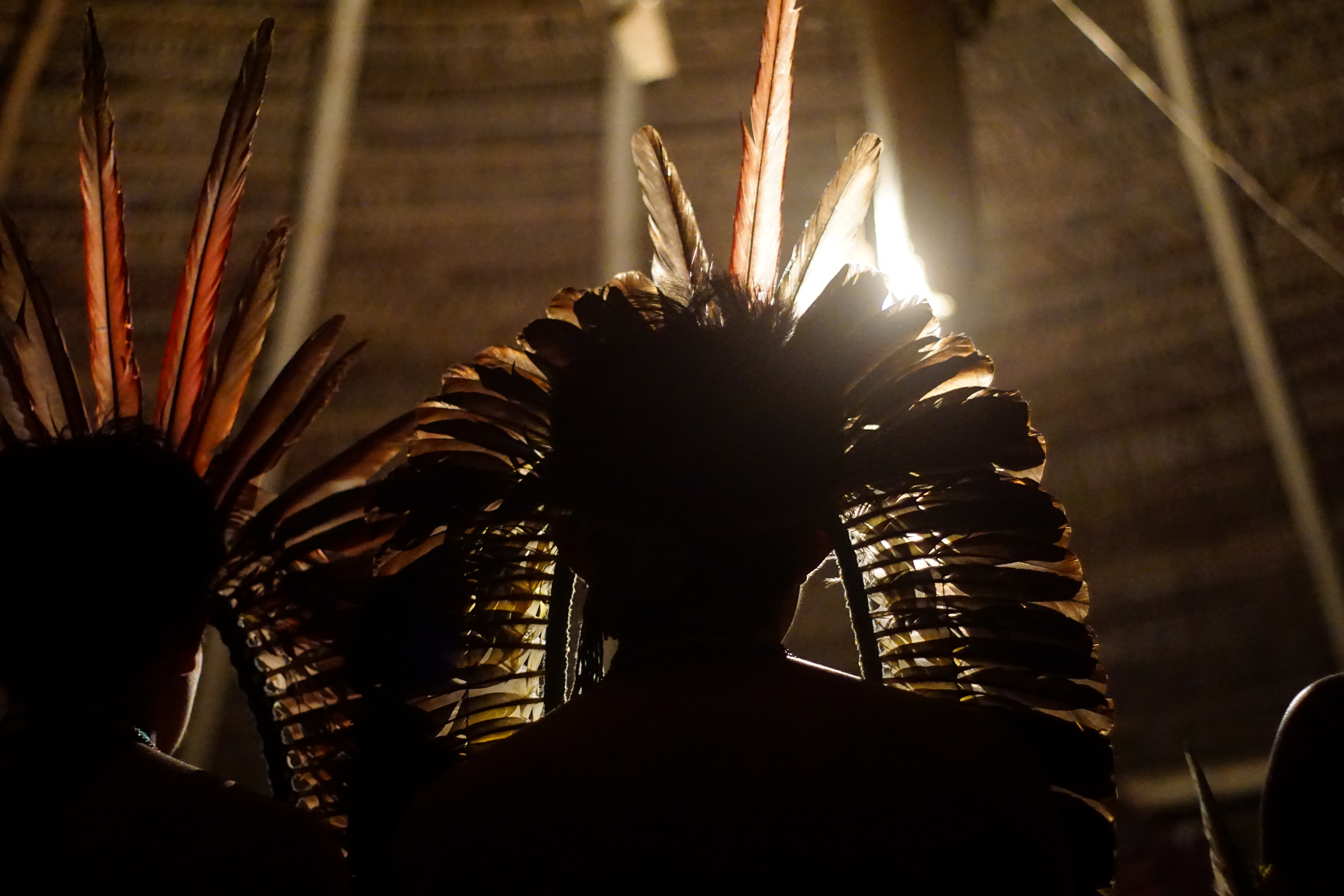 Noke Kuin youth wait to be served the sacred ayahuasca brew.





The 86 year-old shaman invokes the forest spirits before a sacred healing ritual.



Your research draws my attention to the theory of cultural hybridity which explores the ways in which cultures come together and inevitably hybridise over time. You've written extensively on this issue which is multifaceted because we know that cultural hybridity can be both good and bad. On the one hand, hybridity can bring us together to cross pollinate and share diverse cultural knowledge, values, practices, and ways of seeing the world, but it can also be detrimental when one culture seeks to dominate another and force them to adopt more homogenous values, ethics and practices. Why do you feel this is such an important issue and can you give me an example of this from your fieldwork?


A uniform sense of cultural identity has always been an important factor in maintaining community cohesion. If you translate most clan names, such as "the Noke Kuin", you will see that they all tend to mean the same: "the true people". This is consistent with the theory of ethnocentrism, where every culture is taken to be faithful to their own interpretation of reality. I do agree that cultural hybridity can bring people together in some cases, but I fear that in the long term it may do so at the cost of one culture being dominated by another.

Let's consider the importance of a language. Language is much more than vocabulary and grammar; it communicates the existence of sociocultural unity among those who speak it. If one language is made predominant in a particular society, and enforced in school curriculum and bureaucractic systems, one language will inevitably fade away. Evidence of this is the rapid language loss we have witnessed since the dawn of globalisation. It is estimated that half of the languages that are spoken today will disappear in our generation alone, which deeply threatens the "ethnosphere" and our collective repertoire of human possibility.

Culture is what allows a community to connect present and past in an iteration of events going forward into history. And in order to maintain a representation of the idea of "a collective" in the minds of individuals, at least with some measure of authority, I believe that the foundations of their cultural identity should not be interfered with. However, governments have always looked at "difference" as a threat to their mode of governance, and "diversity" is often seen as a negative factor that adds complexity. For this reason, it has always been a priority for states to work diligently in maintaining a uniform sense of identity in their territorial boundaries. However, the power to decide whose voices and ways of seeing the world will prevail has always rested in politics and the state apparatus.

Hybridisation, which is consistent with globalisation and secularism, affects cultures disproportionately. You can see this when you look at the influence that indigenous cultures have had in the societies that settled on their lands, and the influence that colonisers had on native communities. Hybridisation in countries where indigenous peoples still live (i.e. Australia and Brazil) usually has the effect of dissolving the foundations of minority communities who already bear deep colonial scars of subjugation. Ultimately, the price of this unbalanced influence has fuelled feelings of inferiority, division, chaos, and ultimately the perpetuation of domination of 'one way over the other'. History teaches us that, whether consciously or unconsciously, one culture will seek to dominate the other, forcing people to adopt homogenous values, ethics and practices. But whose ways prevail and whose ways are lost in the process is another question.




A Maijuna family from Sucusari (Peruvian Amazon) fill their canoes with surplus honey and fruit to be sold at the nearest town.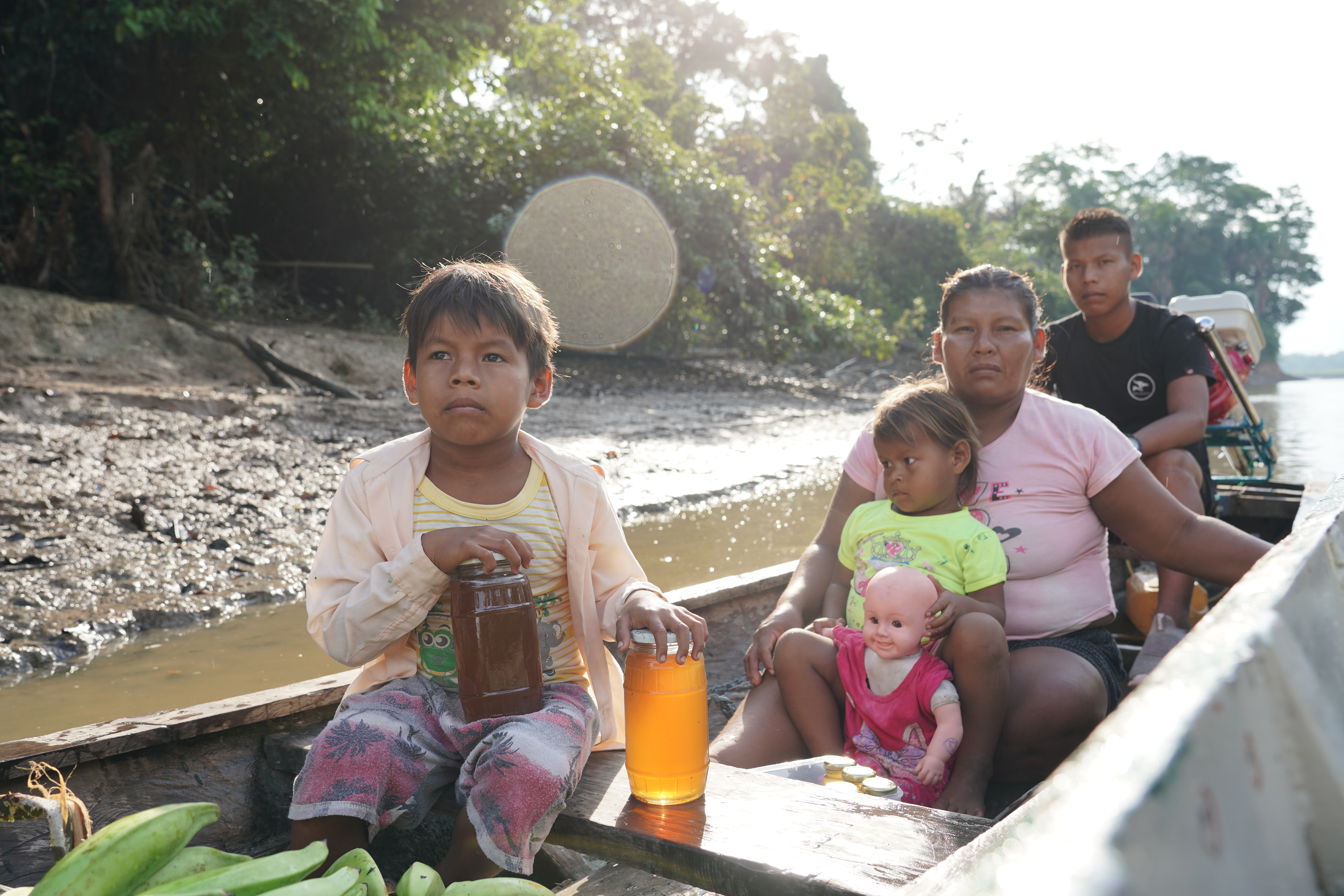 Today, so many indigenous people around the world are forced to engage with modern society in the fight for their rights to their land and resources. This is somewhat of a double-edged sword, and I wanted to ask you, do you think it is possible that indigenous and non-indigenous people can work together into the future without perpetuating negative forms of cultural hybridity?


You are right, indigenous peoples all over the world have been forced to engage in a bureaucratic and political game they never wanted to play — only to be able to live in peace in a land that has always been theirs. While some communities have proven successful in their ability to adapt to this engagement with modern society, others have developed contempt for their own culture. The colonial past has engraved deep feelings of inferiority in the minds of individuals, while at the same time creating false notions of who these communities are (i.e. primitive and savage) in the dominant society. In many cases, living between two worlds has led to a drastic increase in suicide rates among youth (i.e. among the Guarani people of Brazil).

This is indeed a double-edged sword, but I do believe that indigenous and non-indigenous people can work together without perpetuating negative forms of cultural hybridity. Taking anthropological or human-rights fieldwork as an example, the success or failure of this interaction of worlds rest mostly on the researcher as an 'expert' on their own field. The necessary ethical training, as well as a self-cultivated awareness of one's positionality, is paramount to minimise potential negative forms of cultural hybridity, regardless of the researcher's well-meaning intentions.

Those who are able to see past these false notions of inferiority, who recognise the importance and value of these communities, is still not equipped by default to interact with an indigenous person in an eye-to-eye manner and therefore risks bringing their own cultural baggage and colonial conditioning to vulnerable communities. I have observed this during my fieldwork with the Noke Kuin people in the Brazilian Amazon, when a social worker from São Paulo — one of Brazil's biggest cosmopolitan cities — visited the village. He had witnessed some nocturnal sacred rituals, where the community chant all night in honour of their ancestors and sometimes to request aid from the spirits that reside in the forest. One afternoon, this social worker started to sing the chorus of one of their sacred songs, inciting the people to sing along with him as if these chants were the latest commercial hit. The members of the community were shy to confront the outsider, but were nonetheless visibly disturbed. Although the social worker may have had benevolent intentions, he failed to make an important distinction: sacred vs profane. This example illustrates how well-meaning people, without the necessary cultural sensitivity, may risk doing more harm than good by contributing to a negative form of cultural hybridity.




Noke Kuin leaders stand in the
interstate road that today pierces
through their indigenous territory.



Yoshi paints his daughter Patxara with sacred motif as protection against evil spirits that dwell in the forest.



In the past, you have shared some really eye-opening accounts of your experience as a Portuguese person doing research in Brazil and the challenges that arose for you knowing that your ancestors had been involved in the colonisation of that country. How did you approach this experience?


Brazil had always been a place I wanted to delve into, but which my fears had prevented me for a very long time. Who am I to travel to a land where my ancestors caused so much suffering? Am I risking to embody the same colonial thinking that brought destruction to these communities in first place? I was haunted. However, I could not ignore the threat brought by President Bolsonaro and the devastating impacts that his ideology posed to the 305 indigenous groups of Brazil. So, I decided to use this as motivation to propel me forward despite my fears, reminding myself that my research was not about me or the wounds of the past, but about them and their survival in the present.

I was haunted. But my military training taught me that courage is not the absence of fear but having the fear and moving forward anyway. Therefore, I approached this personal challenge with a pure heart, humbleness and a high degree of ethics, which allowed me to sit down and listen, instead of assuming an epistemological position of superiority. In the end, despite the massacre carried by the European colonisers, the many indigenous communities that I visited during my fieldwork have received me – as a Portuguese – in their homeland in the same way their ancestors received the Portuguese explorers of the XV century: with open arms.

What I gathered from this experience is that ultimately, indigenous peoples are giving us a lesson about humanness, besides having already proven to hold a unique political conscience and environmental vision. But we need to have the eyes to see and the heart to feel. For that, it is imperative that we step down from our pedestal, sit down, and listen – and that is what I have embodied when confronted with ancestral trauma.




You have been quite instrumental in arguing that no one culture should be represented over another. However, there remains this tendency in today's society towards romanticising certain cultures over others and I would even go further to say that there are behavioural shifts in society towards being ashamed of some cultures, especially if those cultures have historically been involved or primarily responsible for the colonisation of people around the world. Why do you think these shifts are occurring today and do you think this is problematic?


The western perception of indigenous cultures has changed, at least to some degree, from the old colonial idea of "the primitive savage" to the "guardians of the forest", although the former still endures. In one side of the political spectrum, you have a conservative ideology that believes that there is nothing to learn from indigenous peoples and that they should just surrender to western capitalist ways of seeing the world. On the other side of the spectrum, you see a growing belief that indigenous people are some kind of super-natural wizards of the cosmos who are going to save humanity. The truth is that indigenous people are, at the end of the day, people — like you and I. Ultimately, I believe that it is as easy to romanticise them as it is to ignore their teachings.

With regards to behavioural shifts in our society, our growing awareness about the colonial past and the devastating impacts that our ancestors have caused in distant lands has resulted in behavioural shifts in the way we think and relate to our culture vis-à-vis the peoples that have suffered centuries of colonisation. However, I do not think that feeling guilty about the past and withdrawing from speaking about and/or acting on these issues is going to address historical injustices. In fact, it does not help anyone. If nothing else, these feelings of, for example, "white guilt", only prevent one from using their privilege and opportunities to redress these injustices by working in partnerships with these communities.

My work is proof that indigenous people are not against it, and that working together in a spirit of shared-learning is possible as long as it is guided by an ethical framework of reciprocity designed by the affected people themselves. An approach that has their dreams, hopes and needs at the core, and not what we as outsiders think they need and want. No culture is perfect, but that should not prevent us from acting. As Wade Davis puts it, "if we can be agents of cultural destruction, we can also be facilitators of cultural survival".




What do you hope people can take away from your research?


I hope that my research helps to expand peoples' horizons of social, cultural and spiritual possibilities. To achieve this, I try to make my research as accessible to the public as possible and always strive to condense my academic-related work and other investigative projects in a comprehensible format so the wider public can both understand and relate to it. My ultimate goal is to educate common people about other ways of organising human societies and their value to humanity, but also expose the many threats affecting indigenous societies today.

But who are "indigenous peoples"? The reality is that most people don't even know who they are. So how can someone care if their governments and institutions are responsible for the displacement of entire communities in other parts of the world? If you ask this question in Europe, people will either tell you that these communities ceased existing a long time ago, or that indigenous peoples are the "Indians of North America" as per the colonial depiction in western movies. The truth is that indigenous peoples are not something of the past, and today they are present across 90 countries, speak over 4,000 languages, and protect 80% of the world's biodiversity.

On the other hand, if you ask the same question to a member of the dominant society of a country where indigenous peoples still live, chances are that they will express their prejudice towards these communities, who they see as "backward savages". This is of course a product of their ignorance, mostly due to the neo-colonial government apparatus that seeks to keep indigenous peoples in the shadow of the state. Just 60 years ago, children's school books in Australia had Aboriginal people under the same category as "fauna and flora". In other words, after facing violent persecutions and enduring multiple colonial genocidal campaigns, the surviving native population of Australia were depicted as a kind of sub-human species. Although school children's books have since then been replaced, the prejudice towards Indigenous peoples continue ingrained within the dominant societies where they live.

Unfortunately, it is still in the interest of many governments that indigenous peoples remain in the dark, and if possible, that they develop contempt for their own indigenous identity. This can be seen in countries like Brazil, for example, where the government has always been invested in the assimilation of its indigenous population into the dominant society with the ultimate goal of exploiting the natural resources of their ancestral lands. My biggest challenge is therefore to address the public's ignorance about their existence. As an indigenous man from Brazil once told me, "one cannot care about something which they don't know about". Therefore, besides working alongside these communities, I use storytelling to bridge two very different worlds with the goal of breaking stereotypes and further educate people about: (1) who indigenous peoples are; (2) what threats they face today; and (3) why it is in our interest that their voices are heard and their rights respected. This is what I hope people get away from my research.




Vítor and Poá working collaboratively on the mapping of their territory in the face of growing pressures from encroachers on their land (illegal loggers and hunters).
Poá Noke Kuin stands in the interstate highway that brought chaos to his people.



What role do you think anthropology has in building a better global society?


Anthropology has been used in many different ways since its dawn. From guiding European colonisers on how to dominate indigenous communities to help tyrannical states understanding their enemies of war, but it has also changed our collective understanding about the meaning of being human and alive.

In an increasingly divided society, anthropology, which besides exploring human diversity also teaches us about what we all have in common; it presents itself as a tool for hope. In this globalised world there is an urgent need to build understanding, acceptance, inclusivity and respect across cultural and/or imaginary divides — so that you and I, regardless of our country of origin, religion, world-view, gender and social class, can understand that we are nothing but the same: human.











Interested to learn more about Vítor's research? Follow his work and visit his website here.



Follow Vítor's ethnographic journey via
@ethnopoet